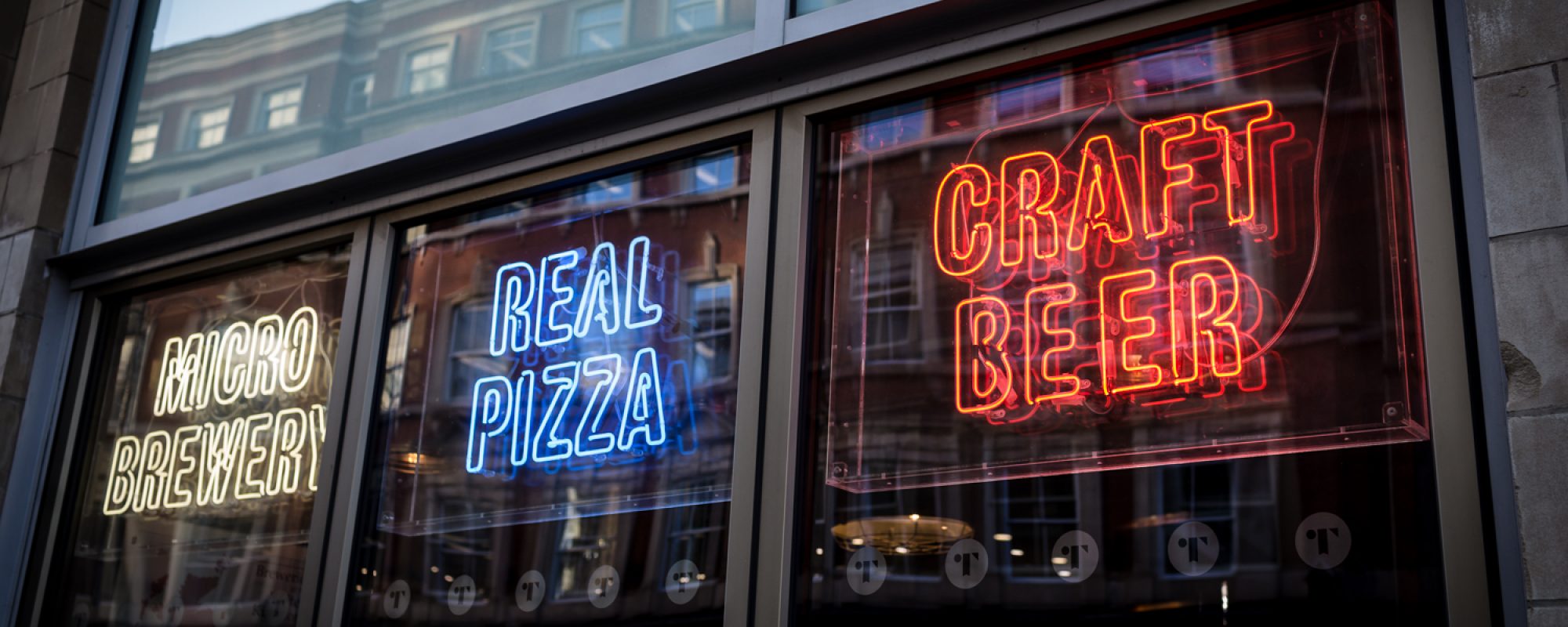 Welcome To Tapped Leeds
Tapped Leeds is located on Boar Lane in the heart of Leeds City centre. Opening in December 2013, this American style brew pub offers a wide range of products including 13 cask lines, 14 keg lines, over 200 bottles and cans as well as fresh beer brewed on site in our custom built Czech decoction brew kit. However, Tapped is not just for beer lovers and offers a large selection of high end spirits, wines and coffee to satisfy every patrons needs.
Over the years Tapped has become an integral part of the Leeds beer scene. Whether that's launching new beers, hosting Tap Takeovers in association with local and international breweries or helping promote Leeds International Beer Festival. We are always striving to bring our customers new and exciting products from all over the world.
In 2017 Tapped was awarded the SIBA Best UK Independent Craft Beer Bar – an honour we are extremely proud of and continue to offer the same level of service and excellence that allowed us to win the award.
Draught Menu
Updated Aug 11 2020, 9:15 PM
Bernard Light Lager 3.8%
Pilsner - Czech
Bernard Family Brewery
A golden Pilsner-style lager, characterized by its richness of colour and aromatic bouquet. Bernard Beer provides a full bodied flavor – smooth and refreshing with no aftertaste – a well balanced brew. The beer is brewed in compliance to the Bavarian Purity Law of 1516, using only Czech two-row barley
… Read More
malt, noble SAAZ hops,soft water from private wells and Bernard's signature yeast strain
---
Veltins Pilsener 4.8%
Pilsner - German
Brauerei VELTINS
---
Citrus Tart 4.5%
Sour - Fruited
Fierce Beer
Citrus Tart is a super-refreshing beer. Soured during the brewing process, then we add fresh lemon and lime juices for flavour and to kick the tartness into overdrive. Pucker Up and strap yourself in - this is a citrus overload!
---
Weihenstephaner Hefeweissbier 5.4%
Hefeweizen
Bayerische Staatsbrauerei Weihenstephan
Our golden-yellow wheat beer, with its fine-pored white foam, smells of cloves and impresses consumers with its refreshing banana flavour. It is full bodied and with a smooth yeast taste. To be enjoyed at any time (always a pleasure / enjoyment), goes excellently with fish and seafood, with spicy cheese
… Read More
and especially with the traditional Bavarian veal sausage. Brewed according to our centuries-old brewing tradition on the Weihenstephan hill.
---
Zlatá Raketa 17% / Golden Rocket 7.0%
IPA - American
Pivovar Matuška
Hops: Columbus, Citra, Amarillo (US) Malts: Czech Pilsen, Carapils Voní a chutná exoticky - přitažlivě pár raket a jste v tropickém ráji. Exotic aroma and flavour – a couple of pints of Raketa will take you to a tropical paradise.
---
Fresh 5.5%
Pale Ale - International
The Wild Beer Co
Drink Now + Don't Age + Freshest Hops We have a passion for flavour and a lust for hops. Fresh has developed over the last 5 years from an ever-changing hop discovering recipe to one that showcases unique hops in a frisky and fragrant pale ale. The hops at the heart
… Read More
of Fresh are the US varieties; Comet and Cascade, but here they're grown in the Hallertau region of Germany. The terroir provides unique differences in character.
---
Cyder 4.5%
Cider - Dry
Aspall
Aspall Cyder is made in the Aspall house style by blending culinary and bittersweet apple varieties such as cox and russet to deliver the refreshing, crisp taste of just-bitten apples. A new mid-strength cider for all occasions. Delivering the refreshing, crisp taste of just-bitten apples with a light to medium body.
---
Mö Strawberry Beer 4.0%
Fruit Beer
Möbru
Real Strawberry juice is added to the traditional Witbier base to deliver a full fruity drink with a vibrant red colour, a pink foamy head and a delicious fruit aroma. Sweet yet balanced, smooth and gently carbonated, it looks and smells as good as it tastes.
---
Smoked Märzen 4.8%
Smoked Beer
Alpha State
Beechwood smoked Bavarian malt, Bavarian yeast and lagered.
---
Close
Railway Porter 4.8%
Porter - English
The Five Points Brewing Company
A rich interpretation of a London Porter with heavy notes of bitter chocolate and roast coffee. Brewed with East Kent Goldings.
---
Manchester Bitter 4.2%
English Bitter
Marble Beers Ltd
Our most traditional core beer is inspired by a Manchester stalwart; a fondly-remembered original. Speciality malt gives the deep golden colour and robust base, balanced by crisp bitterness and a floral, lemony aroma.
---
Fists of Fury 4.2%
Pale Ale - American
Tiny Rebel Brewing Co
Please welcome our new pale ale, Fists of Fury, double dry-hopped to give you that punch! Pardon the pun… This 4.3% delight was crafted using a combination of Simcoe and El Dorado hops. So while your nose might smell a tropical orange burst, you'll taste a hint of orange, papaya and mango.
---
Cranachan Killer 4.5%
Fruit Beer
Fierce Beer
Raspberry and Toasted Oatmeal pale Cranachan is a traditional Scottish dessert made from raspberries, honey, toasted oats and cream. We love it. So we made an oatmeal pale ale and smashed it with enough local berries to feed a clan of hungry Highlanders.
---
Citrus Beer 4.7%
Fruit Beer
St. Peter's Brewery Co.
A light, natural grapefruit flavoured beer which produces a subtle citrus aftertaste. Excellent as an apéritif or as a refreshing change. Bottled Grapefruit Beer has been rebranded to 'Citrus Beer'
---
Kveik Your Eyes Peeled 6.0%
IPA - White
71 Brewing
A single hop IPA brewed with Voss Kveik (yeast), Citra hops and sweet orange peel.Tropical and citrus, fantastic and delicious.
---
Thistly Cross Real Ginger 4.0%
Cider - Herbed / Spiced / Hopped
Thistly Cross Cider
Packed full of real ginger goodness. We infuse fresh root ginger in a medium sweet cider, then hand press it on our apple press to capture all the natural aromas and flavours. This creates a well-balanced, full-bodied and refreshing cider, which should unite ginger lovers the world over!
---
Close
Bottle & Can Menu
Updated Mar 16 2020, 9:12 PM
Pizza
Our award winning pizza kitchen boasts a menu of Italian classics and our own Tapped twist on the authentic Italian stone baked style.

Tap again to access this feed

Tap again to access this feed
Contact Us
51 Boar Lane
Leeds
LS1 5EL
0113 2441953
enquiries@tappedleeds.co.uk
Opening Times
| | |
| --- | --- |
| Monday | 11am-11pm |
| Tuesday |  11am-11pm |
| Wednesday |  11am-12am |
| Thursday |  11am-12am |
| Friday |  11am-1am |
| Saturday |  11am-1am |
| Sunday |  11am-11pm |
Food Served
| | |
| --- | --- |
| Monday | 12pm-10pm |
| Tuesday | 12pm-10pm |
| Wednesday | 12pm-11pm |
| Thursday | 12pm-11pm |
| Friday | 12pm-11pm |
| Saturday | 12pm-11pm |
| Sunday | 12pm-10pm |