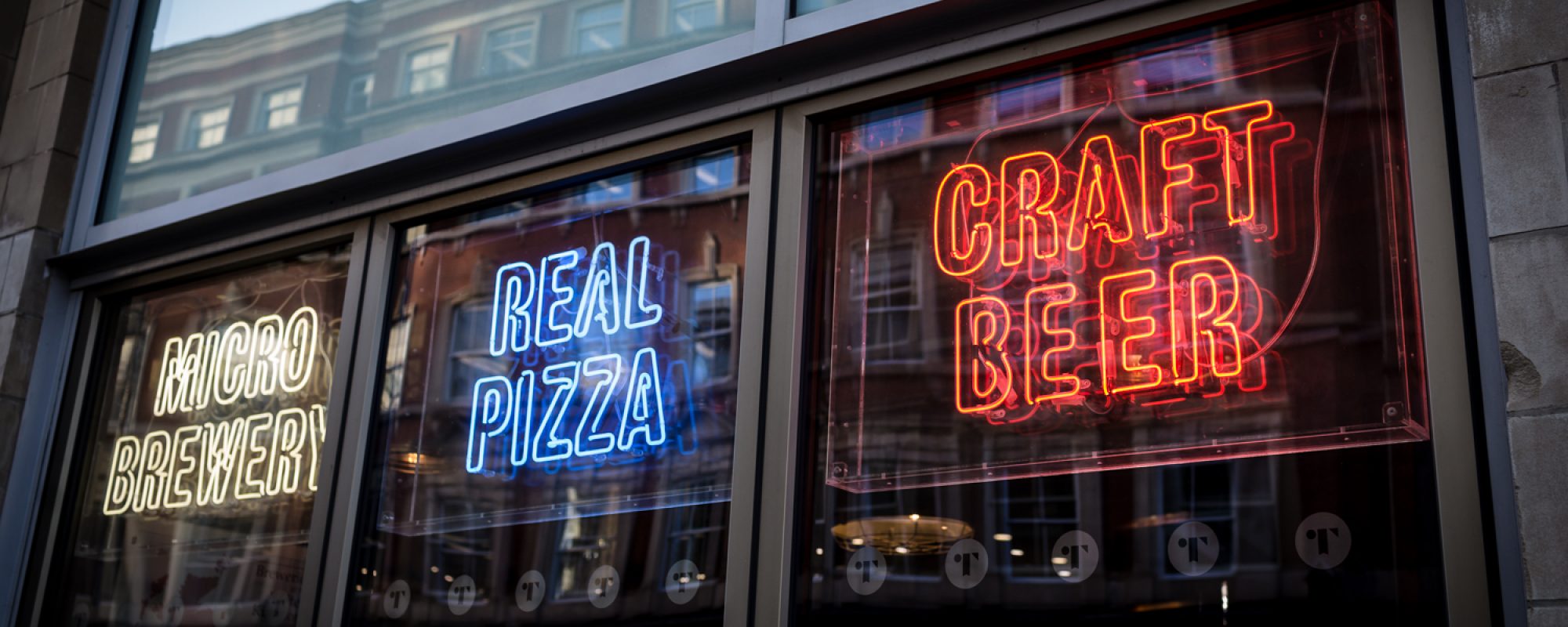 Welcome To Tapped Leeds
Tapped Leeds is located on Boar Lane in the heart of Leeds City centre. Opening in December 2013, this American style brew pub offers a wide range of products including 13 cask lines, 14 keg lines, bottles and cans as well as fresh beer brewed on site in our custom built Czech decoction brew kit. However, Tapped is not just for beer lovers and offers a large selection of high end spirits, wines and coffee to satisfy every patrons needs.
Over the years Tapped has become an integral part of the Leeds beer scene. Whether that's launching new beers, hosting Tap Takeovers in association with local and international breweries or helping promote Leeds International Beer Festival. We are always striving to bring our customers new and exciting products from all over the world.
In 2017 Tapped was awarded the SIBA Best UK Independent Craft Beer Bar – an honour we are extremely proud of and continue to offer the same level of service and excellence that allowed us to win the award.
Draught Menu
Updated Nov 27 2021, 9:40 PM
VELTINS 4.8%
Pilsner - German
Brauerei
One of the finest examples of German Pilsner. Veltins Pilsener (4.8% ABV) is brewed using natural spring water from its own mountain. It has a delicate dry and clean palate, fine carbonated body, slight bitterness and a light citrus finish. Brewed in Sauerland, near Dortmund, to the German Purity Law
… Read More
1516. Voted 'World's Best Pilsner' in the 2007 World Beer Awards.
---
BADLANDS 4.2%
Pale Ale - International
Bristol Beer Factory
Fresh, tropical session Uber-pale with a balanced bitterness coming together in an insanely drinkable pint. Pours an uber pale with a bright white head with tangerine and grapefruit on the nose with a tropical note on the pallet to follow thanks to the addition of Azzaca, Ekuanot and El Dorado hops Drink with pals and repeat.
---
ENGLISH BERRY 4.0%
Cider - Other Fruit
Westons
A sparkling, clear, berry-coloured cider made from a blend of bittersweet, sharp and sweet apples, matured in Westons traditional oak vats before being blended with berry fruits.
---
HEFE WEISSBIER 5.4%
Wheat Beer - Hefeweizen
Weihenstephan
Our golden-yellow wheat beer, with its fine-pored white foam, smells of cloves and impresses consumers with its refreshing banana flavour. It is full bodied and with a smooth yeast taste. To be enjoyed at any time (always a pleasure / enjoyment), goes excellently with fish and seafood, with spicy cheese
… Read More
and especially with the traditional Bavarian veal sausage. Brewed according to our centuries-old brewing tradition on the Weihenstephan hill.
---
LOVE & HATE 7.2%
IPA - New England / Hazy
Vocation Brewery
UNCONVENTIONAL. UNCOMPROMISING. WE LOVE IT. Forget crystal-clear beers with delicate flavour profiles. Our juicy and unapologetically murky New England IPA is made to leave a lasting impression.Traditionalists will hate it. But to us, it's the one An authentic Vermont yeast strain and a big dose of oats work together with plenty of
… Read More
dry hops to create stunning aromas and a silky-smooth finish. JUICY HARD-HITTING HAZY
---
MILLIONAIRE 4.7%
Stout - Milk / Sweet
The Wild Beer Co
Salted Caramel + Chocolate + Milk Stout Sometimes a drink can make you feel so decadent it's like you're a millionaire; this beer wraps you in a velvety cocoon, dresses you in a smart suit and takes you out for a special night on the tiles. Sweet and salty collide in
… Read More
this rich, balanced and smooth dessert stout. Lactose, caramel and high quality Valrhona cocoa nibs provide a chocolate and caramel backbone alongside the roasty malts whilst the Cornish Sea Salts gives a savoury salty kick, raising this beautiful beer above the norm.
---
ASPALL 4.5%
Cider - Dry
Cyder
Aspall Cyder is made in the Aspall house style by blending culinary and bittersweet apple varieties such as cox and russet to deliver the refreshing, crisp taste of just-bitten apples. A new mid-strength cider for all occasions. Delivering the refreshing, crisp taste of just-bitten apples with a light to medium body.
---
New Musick 4.0%
Pale Ale - New England / Hazy
Vocation Brewery
A juicily smooth and sessionable pale for the post-punk era. New Musick was the original term used to describe a wave of progressive, avant-garde style rock, born in the late 70s as musicians moved away from the clichés of traditional punk. Lose yourself in a harmonic haze of pineapple, passionfruit and
… Read More
sweet mandarin with zesty citrus peel and notes of fresh pine.
---
GOOSE WILLIS 5.3%
Sour - Fruited Gose
Brew York
Yippie-Ki-Yay, Motherplucker, it's a Gooseberry Fool Sour rammed with Nelson Sauvin hops. Brewed for Collabfest 2017 with BrewDog York.
---
CLAIRVOYANCE 7.2%
IPA - American
Magic Rock Brewing
A smoothly balanced and refreshing IPA brewed with our house Golden Promise base malt along with Golden Naked Oats, Wheat & Acidulated malt. Citra and NZ Motueka hops in whirlpool and dry hop deliver aromas and flavours redolent of passion fruit, mango and lime. Fermented with our house Californian ale
… Read More
yeast (WLP001) to give great drinkability and a clean hop profile with minimal influence from the yeast. Malts: Golden Promise, Golden Naked Oats, Wheat Malt, Acidulated Malt Hops: T90 Citra, Motueka Yeast: WLP001
---
LIGHT LAGER 3.8%
Pilsner - German
Elvington Brewery
Hopped with Hallertau, A delicate aroma hop used mainly over the years in Lager type beers. This pale lager has a wonderful balance, with gentle hints of sweetness, all topped off with a naturally carbonated fresh taste.
---
LITTLE PILS 3.8%
Lager - Pale
Tapped Leeds
Our session Pilsner hopped with Saphir and Spalter Select. Light and crisp.
---
Close
STATION PORTER 5.0%
Porter - English
Tapped Brew Co
Our take on a classic English porter. Generous amounts of chocolate and brown malt give a nice dark chocolate flavour with subtle hints of coffee, Hopped with Phoenix and First Gold.
---
TONKOKO 4.3%
Stout - Milk / Sweet
Brew York
Tonka beans, hand-toasted coconut, Madagascan vanilla and Belgian sourced cacao nibs combine to make this one silky smooth and indulgent milk stout. Many have called it liquid Bounty! We built a custom infusion vessel to make this beer; we hope you think it was worth it!
---
MANCHESTER BITTER 4.2%
English Bitter
Marble Beers Ltd
Our most traditional core beer is inspired by a Manchester stalwart; a fondly-remembered original. Speciality malt gives the deep golden colour and robust base, balanced by crisp bitterness and a floral, lemony aroma.
---
DROP THE PRESSURE 4.2%
Pale Ale - American
Bristol Beer Factory
U.S Uber Pale Ale Single Hop | Trident Unique hop variety with pine for days as well as grapefruit
---
BLONDE STAR 4.1%
Blonde Ale
Anarchy Brew Co.
Crisp and fresh, Blonde Star is light in body but certainly not in flavour. Brimful of lemon, grapefruit, and passion fruit. Refreshing and bready, with a bright finish. Vegan-friendly in can + keg
---
GUARDIAN OF THE FOREST 3.8%
IPA - Session
Totally Brewed
A great low abv session IPA. Citra, mosaic and simcoe as both late and dry hop additions.
---
TALISMAN 5.0%
Pale Ale - New Zealand
Bristol Beer Factory
Dual Hop Series: banger of an NZ IPA! Nelson Sauvin - what a hop! Grape, tropical fruit. And we have combined it with its less heralded citrusy NZ cousin, Pacifica in this Dual Hop Series showpiece for NZ hops. This is a pale golden IPA, with flavour and sessionability to burn!
---
MOJO 3.6%
Pale Ale - English
Tapped Brew Co
A light bodied session pale ale. Lightly hopped with Admiral, Goldings and Citra hops to give an easy drinking pale.
---
MANGO 4.0%
Cider - Other Fruit
Lilley's Cider
An aromatic sweet cider expertly blended with exotic mango to create a mouth watering tropical flavour.
---
Close
Pizza
Our award winning pizza kitchen boasts a menu of Italian classics and our own Tapped twist on the authentic Italian stone baked style.

Tap again to access this feed

Tap again to access this feed
Contact Us
51 Boar Lane
Leeds
LS1 5EL
0113 2441953
am@tappedleeds.co.uk
Opening Times
| | |
| --- | --- |
| Monday |  12pm-11pm |
| Tuesday |  12pm-11pm |
| Wednesday |  12pm-11pm |
| Thursday |  12pm-11pm |
| Friday |  11am-12am |
| Saturday |  11am-12am |
| Sunday |  12pm-11pm |
Food Served
| | |
| --- | --- |
| Monday | 12pm-9pm |
| Tuesday | 12pm-9pm |
| Wednesday | 12pm-9pm |
| Thursday | 12pm-9pm |
| Friday | 12pm-10pm |
| Saturday | 12pm-10pm |
| Sunday | 12pm-9pm |