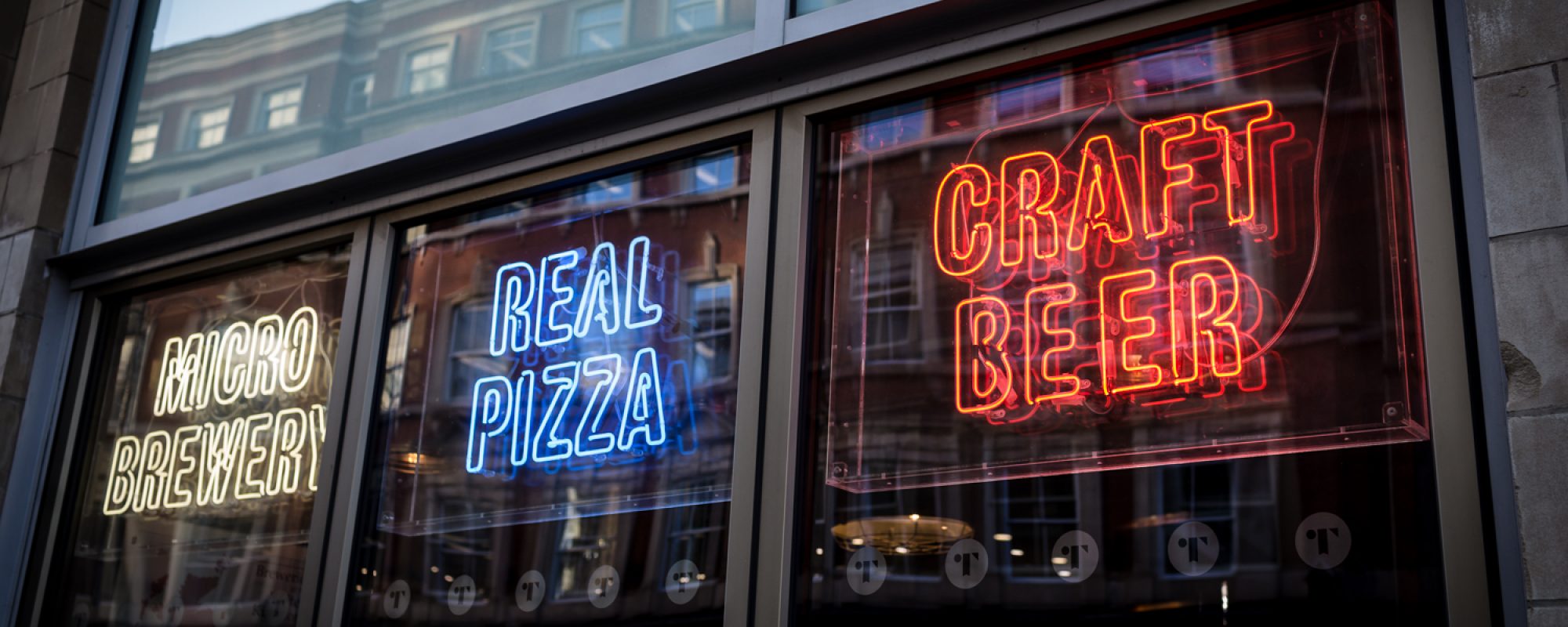 Welcome To Tapped Leeds
Tapped Leeds is located on Boar Lane in the heart of Leeds City centre. Opening in December 2013, this American style brew pub offers a wide range of products including 13 cask lines, 14 keg lines, over 200 bottles and cans as well as fresh beer brewed on site in our custom built Czech decoction brew kit. However, Tapped is not just for beer lovers and offers a large selection of high end spirits, wines and coffee to satisfy every patrons needs.
Over the years Tapped has become an integral part of the Leeds beer scene. Whether that's launching new beers, hosting Tap Takeovers in association with local and international breweries or helping promote Leeds International Beer Festival. We are always striving to bring our customers new and exciting products from all over the world.
In 2017 Tapped was awarded the SIBA Best UK Independent Craft Beer Bar – an honour we are extremely proud of and continue to offer the same level of service and excellence that allowed us to win the award.
Draught Menu
Updated Mar 17 2020, 9:53 PM
Bernard Light Lager 3.8%
Pilsner - Czech
Bernard Family Brewery
A golden Pilsner-style lager, characterized by its richness of colour and aromatic bouquet. Bernard Beer provides a full bodied flavor – smooth and refreshing with no aftertaste – a well balanced brew. The beer is brewed in compliance to the Bavarian Purity Law of 1516, using only Czech two-row barley
… Read More
malt, noble SAAZ hops,soft water from private wells and Bernard's signature yeast strain Ingredients: water, barley malt from the Bernard malt house, prepared Saaz hops, hop extract Average nutritional values in 100 ml: Energy content 155 kJ/37 kcal, fats 0 g, saturated fat 0 g, carbohydrates 3,7 g, sugars 0,5 g, protein 0,5 g, salt 0 g
---
Veltins Pilsener 4.8%
Pilsner - German
Brauerei VELTINS
---
Unfiltered Lager (Nefiltrovaná 12) 5.0%
Pilsner - Czech
Bernard Family Brewery
This is the best version of lager you can have. Very fresh, natural, unfiltered and unpasteurised. The kegs are filled straight from the lager tank so you an enjoy the exceptional full body character underlined with a yeasty aroma and taste.
---
Weihenstephaner Hefeweissbier 5.4%
Hefeweizen
Bayerische Staatsbrauerei Weihenstephan
Our golden-yellow wheat beer, with its fine-pored white foam, smells of cloves and impresses consumers with its refreshing banana flavour. It is full bodied and with a smooth yeast taste. To be enjoyed at any time (always a pleasure / enjoyment), goes excellently with fish and seafood, with spicy cheese
… Read More
and especially with the traditional Bavarian veal sausage. Brewed according to our centuries-old brewing tradition on the Weihenstephan hill.
---
Pale 4.5%
Pale Ale - American
ShinDigger Brewing Co.
West Coast hop mouth party!
---
Virtuous 4.5%
IPA - Session / India Session Ale
Kirkstall Brewery
Our gluten-free, vegan friendly session IPA has a clean citrus aroma that gives way to a fruity hop flavour. Flavours of tropical and citrus fruits, with hints of pine and blueberry are perfectly balanced by its complex malt base, giving it a flavoursome yet refreshing profile.
---
Cyder 4.5%
Cider - Dry
Aspall
Aspall Cyder is made in the Aspall house style by blending culinary and bittersweet apple varieties such as cox and russet to deliver the refreshing, crisp taste of just-bitten apples. A new mid-strength cider for all occasions. Delivering the refreshing, crisp taste of just-bitten apples with a light to medium body.
---
Mystic Peach 3.7%
Fruit Beer
Brouwerij Haacht Brasserie
Appearance: Pale yellow with a white, creamy head. The remaining beer yeasts give the beer a slight cloudiness. Flavour: It tastes like freshly picked, sun-ripened peaches are flowing through the wheat beer. It has a subtle sweetness that does not leave a cloying feeling in the back of your mouth.
---
Kalamansification 5.0%
Sour - Fruited
The Wild Beer Co
Kalamansification is a tropical sour inspired by zingy tropical and citrus cocktails. Its bright colour comes from hibiscus flowers and has a big tropical fruit juice flavour and aroma. We used kalamansi and lime in addition to the passion fruit, orange and guava in the beer.
---
Yu Lu 3.6%
Pale Ale - American
Siren Craft Brew
Refreshing and exciting in equal measure, Yu Lu is brewed with Earl Grey tea and lemon zest for taste that belies its strength. Distinct peach and apricot notes are complemented by zesty bergamot flavours and a delicate loose leaf tea bitterness.
---
Yorkshire Blackout 5.0%
Porter - English
The Great Yorkshire Brewery
A 1930's recipe designed by a soldier who never returned from war. Blackout is deliciously smooth & dark with chocolate and vanilla flavours - by 'eck it's addictive. Hops Goldings, Fuggles. Malts Pale, Caramalt, Crystal 150, Choc, Black, Oatmalt
---
Pompelmocello 6.0%
IPA - American
Siren Craft Brew
This sour IPA is hopped with Ekuanot, Bravo and Mosaic to create the biggest grapefruity hop profile we could muster, but we've also included grapefruit zest and juice for good measure. Lactose rounds things out with a sweet and smooth touch.
---
Planet Pils 4.7%
Pilsner - Czech
Tapped Leeds
Czech Style Pilsner, Dry Hopped w/ Yorkshire Rhubarb
---
Amarillo & Simcoe Pale 4.5%
Pale Ale - English
Tapped Leeds
Hazy & Hoppy Unfiltered Pale Ale
---
Close
Dry Stone Stout 4.5%
Stout - Oatmeal
Hawkshead Brewery
Rich complex oatmeal stout 4.5% Aromas of chocolate and coffee, complex rich deep flavours from a blend of 7 malts, moderate bitterness and a long dry finish Available in Cask, Keg and Bottle
---
Sorachi Stout 6.0%
Stout - American
North Riding Brewery
---
Pekin 4.0%
Pale Ale - English
The Hop Shed
---
Ale 3.5%
English Bitter
Tapped Brew Co
A modern classic Best Bitter. Crafted and inspired by Sheffield's historic Bitter brewing tradition. Maris Otter malt has been lavished with British First Gold and a late twist of Polish Marynka hop to produce a perfectly balanced session Best Bitter.
---
Red Rocker 5.0%
Rye Beer
Cromarty Brewing Co.
Red rye based beer recklessly laced with American Hops during the boil and dry hopped after fermentation with more USA and NZ varieties to create a real fruity character and smooth bitterness. Malts: Pale, Rye, Crystal, Chocolate, Carafa Hops: Summit, Columbus, Cascade, Nelson Sauvin
---
Dissolution IPA 5.0%
IPA - English
Kirkstall Brewery
Brewed in memory of the dissolution of Kirkstall Abbey by Henry Vlll, in 1539 AD, and the disbanding of the Abbey's Cistercian order. This is a classic India Pale Ale, with a resolute hoppy kick and lasting citrus finish.
---
Big Wednesday 5.6%
IPA - American
Harbour Brewing Co
A new hazy IPA with aromas of ripe tropical fruit and flavours of juicy mango & papaya. A nice soft mouth feel that is bold and robust.
---
Two Chefs 4.0%
Honey Beer
The Great Yorkshire Brewery
Designed by James MacKenzie ( The Pipe & Glass Inn) and Andrew Pern (The Star at Harome ) Carefully concocted by Yorkshire's Finest Chefs, this delicious, golden beer is brewed with local Yorkshire honey and seasoned with a pinch of lemon thyme. Hops First Gold, Challenger, Fuggles. Malts Pale, Caramalt, Crystal 150, Oatmalt.
---
Light Cluster 4.3%
Pale Ale - American
Bad Seed Brewery
---
Low Rider 3.9%
Pale Ale - American
Bristol Beer Factory
Dual Hop Series. Extra Pale ale at session strength, dry hopped with two classic American hops - Citra & Amarillo - leading to a JUICY, citrussy beer, with the citrus hop notes balanced by a simple and clean malt bill of 90% Maris Otter and small quantities of Cara malt and Wheat.
---
Mary Jane 3.5%
Pale Ale - English
Ilkley Brewery Co.
Multi-award-winning pale ale packed with American hops. Intensely refreshing and satisfying, with surprising balance and body for such a low abv. Mary Jane was named from the character in the Yorkshire folk song On Ilkla Moor Baht'at and is our best-selling beer by a country mile. Hast tha' been a'cooartin Mary Jane? Hops: Amarillo & Cascade
---
Hit The Lip 3.8%
Pale Ale - English
Cromarty Brewing Co.
A summer session beer packed with juicy hoppy flavours of peach and pine. Let this nectar hit you in the lips and you'll be lying back in fruity hoppy heaven! Malts: Low Colour Maris Otter, Cara, Munich, Wheat Hops: Kohatu, Nelson Sauvin, Bobek, Motueka
---
Thistly Cross Whisky Cask 6.9%
Cider - Traditional
Thistly Cross Cider
Cider is matured in Whisky Casks from Glen Moray Distillery. Just enough time passes for the cider to absorb the distinctive tones of the oak and Highland single malt.
---
Close
Bottle & Can Menu
Updated Mar 16 2020, 9:12 PM
Pizza
Our award winning pizza kitchen boasts a menu of Italian classics and our own Tapped twist on the authentic Italian stone baked style.

Tap again to access this feed

Tap again to access this feed
Contact Us
51 Boar Lane
Leeds
LS1 5EL
0113 2441953
enquiries@tappedleeds.co.uk
Opening Times
| | |
| --- | --- |
| Monday | 11am-11pm |
| Tuesday |  11am-11pm |
| Wednesday |  11am-12am |
| Thursday |  11am-12am |
| Friday |  11am-1am |
| Saturday |  11am-1am |
| Sunday |  11am-11pm |
Food Served
| | |
| --- | --- |
| Monday | 12pm-10pm |
| Tuesday | 12pm-10pm |
| Wednesday | 12pm-11pm |
| Thursday | 12pm-11pm |
| Friday | 12pm-11pm |
| Saturday | 12pm-11pm |
| Sunday | 12pm-10pm |