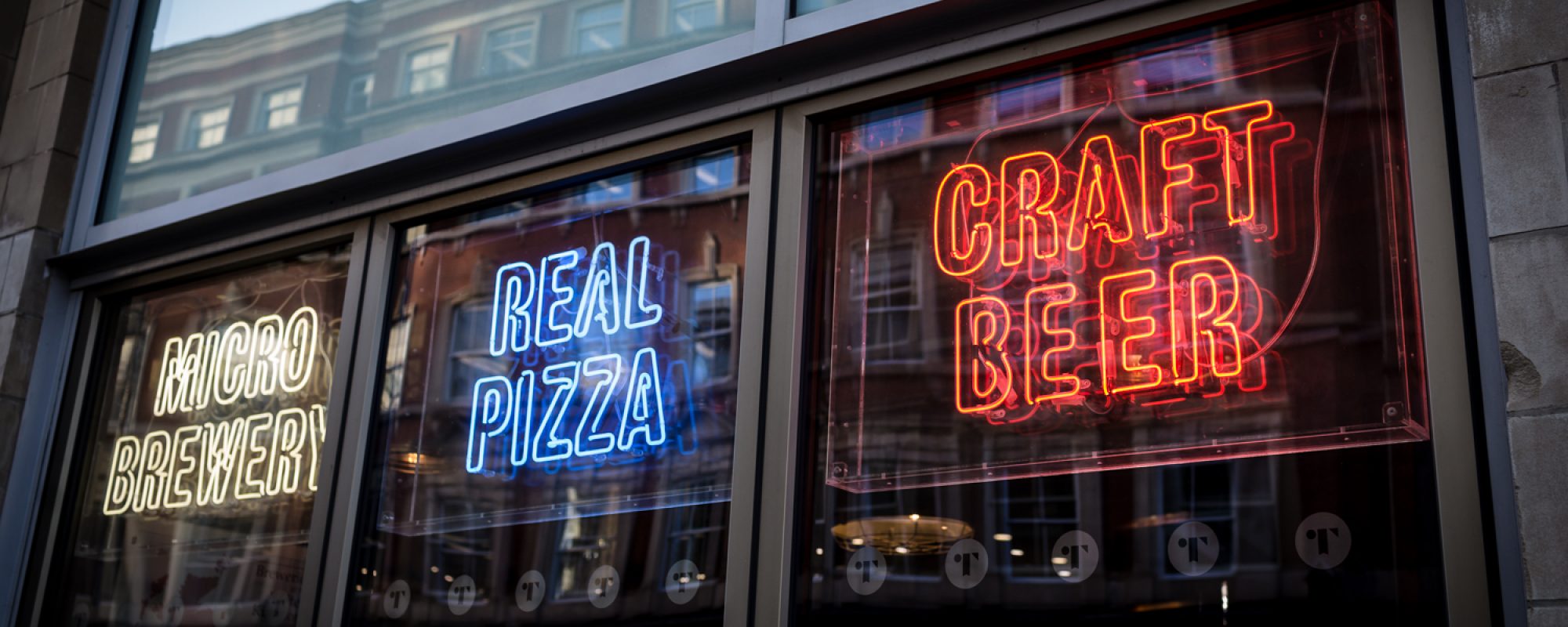 Welcome To Tapped Leeds
Tapped Leeds is located on Boar Lane in the heart of Leeds City centre. Opening in December 2013, this American style brew pub offers a wide range of products including 13 cask lines, 14 keg lines, over 200 bottles and cans as well as fresh beer brewed on site in our custom built Czech decoction brew kit. However, Tapped is not just for beer lovers and offers a large selection of high end spirits, wines and coffee to satisfy every patrons needs.
Over the years Tapped has become an integral part of the Leeds beer scene. Whether that's launching new beers, hosting Tap Takeovers in association with local and international breweries or helping promote Leeds International Beer Festival. We are always striving to bring our customers new and exciting products from all over the world.
In 2017 Tapped was awarded the SIBA Best UK Independent Craft Beer Bar – an honour we are extremely proud of and continue to offer the same level of service and excellence that allowed us to win the award.
Draught Menu
Updated Sep 20 2020, 5:33 PM
Bernard Light Lager 3.8%
Pilsner - Czech
Bernard Family Brewery
A golden Pilsner-style lager, characterized by its richness of colour and aromatic bouquet. Bernard Beer provides a full bodied flavor – smooth and refreshing with no aftertaste – a well balanced brew. The beer is brewed in compliance to the Bavarian Purity Law of 1516, using only Czech two-row barley
… Read More
malt, noble SAAZ hops,soft water from private wells and Bernard's signature yeast strain
---
Veltins Pilsener 4.8%
Pilsner - German
Brauerei VELTINS
---
Yorkshire Blackout 5.0%
Porter - English
The Great Yorkshire Brewery
A 1930's recipe designed by a soldier who never returned from war. Blackout is deliciously smooth & dark with chocolate and vanilla flavours - by 'eck it's addictive. Hops Goldings, Fuggles. Malts Pale, Caramalt, Crystal 150, Choc, Black, Oatmalt
---
Sleeping Lemons 3.6%
Sour - Fruited Gose
The Wild Beer Co
Preserved Lemons + Salt = Refreshing Gose We have been preserving lemons in salt and lemon juice throughout the winter, ready to brew this refreshing, zesty summer special. Gose, is a traditional German-style sour wheat beer, usually brewed with coriander and salt. Once nearly extinct, this very refreshing style is making
… Read More
a comeback and we thought it would provide the perfect backbone to this wonderfully complex summer beer. A fabulous citrus accompaniement to fish dishes, or it could act as a sour lemon pickle to Moroccan food.
---
Weihenstephaner Hefeweissbier 5.4%
Hefeweizen
Bayerische Staatsbrauerei Weihenstephan
Our golden-yellow wheat beer, with its fine-pored white foam, smells of cloves and impresses consumers with its refreshing banana flavour. It is full bodied and with a smooth yeast taste. To be enjoyed at any time (always a pleasure / enjoyment), goes excellently with fish and seafood, with spicy cheese
… Read More
and especially with the traditional Bavarian veal sausage. Brewed according to our centuries-old brewing tradition on the Weihenstephan hill.
---
Ellensberg 4.3%
IPA - Session / India Session Ale
Harbour Brewing Co
Ellensberg is brewed using Best Pale, Crystal and Munich malts with Mosaic, Perle and Amarillo hops for a bright golden IPA that is packed full of perfumed citrus fruit aromas a juicy, balanced citrus bite palate and dry but refreshing finish.
---
Cyder 4.5%
Cider - Dry
Aspall
Aspall Cyder is made in the Aspall house style by blending culinary and bittersweet apple varieties such as cox and russet to deliver the refreshing, crisp taste of just-bitten apples. A new mid-strength cider for all occasions. Delivering the refreshing, crisp taste of just-bitten apples with a light to medium body.
---
Mystic Peach 3.7%
Fruit Beer
Brouwerij Haacht Brasserie
Appearance: Pale yellow with a white, creamy head. The remaining beer yeasts give the beer a slight cloudiness. Flavour: It tastes like freshly picked, sun-ripened peaches are flowing through the wheat beer. It has a subtle sweetness that does not leave a cloying feeling in the back of your mouth.
---
Virtuous 4.5%
IPA - Session / India Session Ale
Kirkstall Brewery
Our gluten-free, vegan friendly session IPA has a clean citrus aroma that gives way to a fruity hop flavour. Flavours of tropical and citrus fruits, with hints of pine and blueberry are perfectly balanced by its complex malt base, giving it a flavoursome yet refreshing profile.
---
Close
Milk Stout 4.5%
Stout - Milk / Sweet
Bristol Beer Factory
The iconic BBf Milk Stout. Back in 2006 we took a 150-year old Bristol concept of a Milk Stout and put a BBF twist on it to create the original craft Milk Stout. We brew year-round on cask, keg and in bottle. Multi award-winning; Smooth chocolatey sweetness and balancing bitterness
… Read More
with hints of dark fruits. It's a stout like no other.
---
Frothingham Best 4.3%
English Bitter
Great Newsome Brewery
Dark amber robust best bitter. Aroma of raisin fruit & hazelnut, moderately bittered with resin hop and peach fruit tones through to a sweet finish.
---
Notorious 3.8%
Pale Ale - American
Bristol Beer Factory
Notorious pays homage to the original US 'C' hops: 4 revolutionary – now classic – hops that helped the UK fall in love with citrusy hoppy pale ales in those heady early days of the Craft Beer Revolution. Columbus, Chinook, Cascade and Centennial combine to make a legend of a
… Read More
pint: citrus, sherbet, black pepper, floral, tropical and piney flavours make this an epic pour. A king of sessions, Notorious will have you coming back for more. NB: 3.8% since March 2019 brew First two brews: Nov 2018 and Feb 2019 were at 4.1%
---
Low Rider 3.9%
Pale Ale - American
Bristol Beer Factory
Dual Hop Series. Extra Pale ale at session strength, dry hopped with two classic American hops - Citra & Amarillo - leading to a JUICY, citrussy beer, with the citrus hop notes balanced by a simple and clean malt bill of 90% Maris Otter and small quantities of Cara malt and Wheat.
---
Daymer Extra Pale 3.8%
Pale Ale - English
Harbour Brewing Co
Daymer - named after a beautiful bay near the brewery - is a bright golden pale ale brewed with Sucrose and Vienna malts and uses Saaz, Celeia, Mosaic & Citra hops for a Pine & lemon aroma, jellied citrus fruit flavour and clean, crisp finish.
---
Dissolution IPA 5.0%
IPA - English
Kirkstall Brewery
Brewed in memory of the dissolution of Kirkstall Abbey by Henry Vlll, in 1539 AD, and the disbanding of the Abbey's Cistercian order. This is a classic India Pale Ale, with a resolute hoppy kick and lasting citrus finish.
---
Thistly Cross Real Elderflower 4.0%
Cider - Traditional
Thistly Cross Cider
To make this cider, we begin by creating a giant cup of Elderflower tea. Our farmhouse cider is then spiked with this elderflower brew to open up a new world of possibilities.
---
Close
Bottle & Can Menu
Updated Aug 20 2020, 11:14 AM
Pizza
Our award winning pizza kitchen boasts a menu of Italian classics and our own Tapped twist on the authentic Italian stone baked style.

Tap again to access this feed

Tap again to access this feed
Contact Us
51 Boar Lane
Leeds
LS1 5EL
0113 2441953
enquiries@tappedleeds.co.uk
Opening Times
| | |
| --- | --- |
| Monday |  12pm-10pm |
| Tuesday |  12pm-10pm |
| Wednesday |  12pm-10pm |
| Thursday |  12pm-10pm |
| Friday |  11am-11pm |
| Saturday |  11am-11pm |
| Sunday |  12pm-10pm |
Food Served
| | |
| --- | --- |
| Monday | 12pm-9pm |
| Tuesday | 12pm-9pm |
| Wednesday | 12pm-9pm |
| Thursday | 12pm-9pm |
| Friday | 12pm-9pm |
| Saturday | 12pm-9pm |
| Sunday | 12pm-9pm |