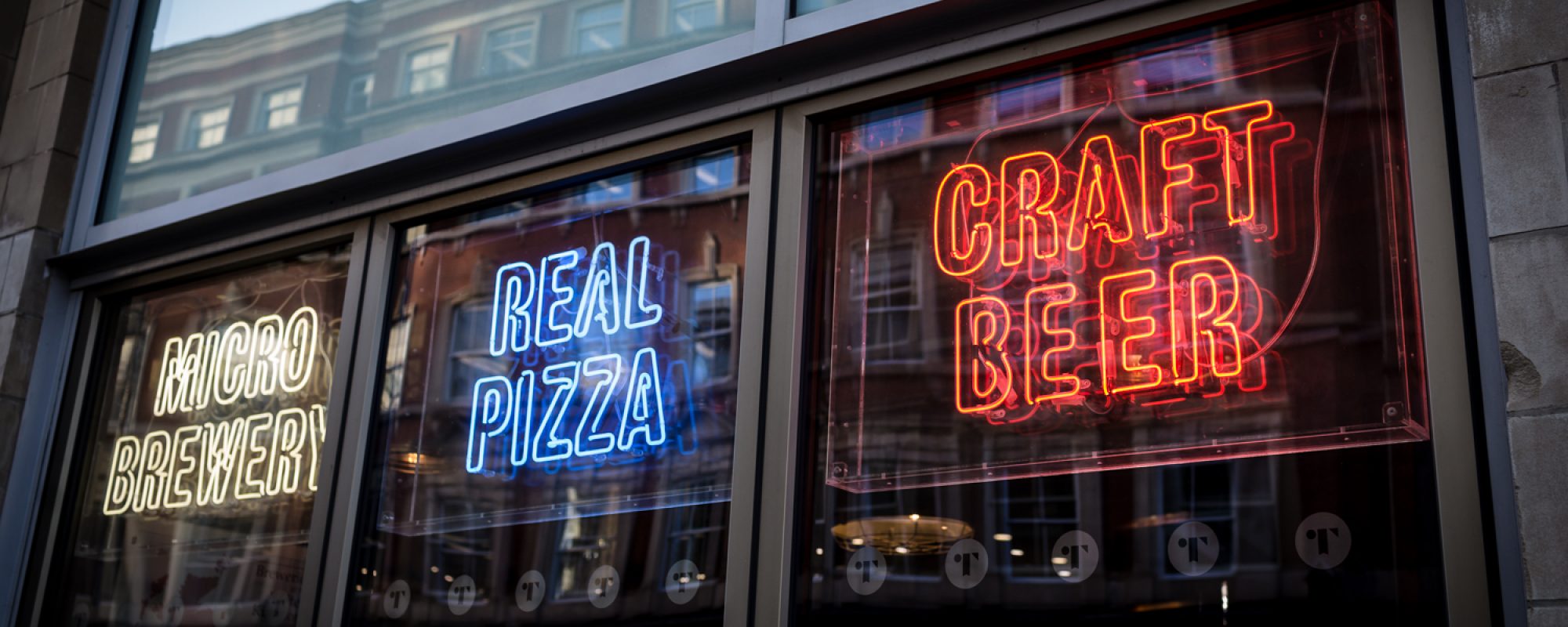 Welcome To Tapped Leeds
Tapped Leeds is located on Boar Lane in the heart of Leeds City centre. Opening in December 2013, this American style brew pub offers a wide range of products including 13 cask lines, 14 keg lines, over 200 bottles and cans as well as fresh beer brewed on site in our custom built Czech decoction brew kit. However, Tapped is not just for beer lovers and offers a large selection of high end spirits, wines and coffee to satisfy every patrons needs.
Over the years Tapped has become an integral part of the Leeds beer scene. Whether that's launching new beers, hosting Tap Takeovers in association with local and international breweries or helping promote Leeds International Beer Festival. We are always striving to bring our customers new and exciting products from all over the world.
In 2017 Tapped was awarded the SIBA Best UK Independent Craft Beer Bar – an honour we are extremely proud of and continue to offer the same level of service and excellence that allowed us to win the award.
Draught Menu
Updated Oct 21 2020, 6:32 PM
Bernard Light Lager 3.8%
Pilsner - Czech
Bernard Family Brewery
A golden Pilsner-style lager, characterized by its richness of colour and aromatic bouquet. Bernard Beer provides a full bodied flavor – smooth and refreshing with no aftertaste – a well balanced brew. The beer is brewed in compliance to the Bavarian Purity Law of 1516, using only Czech two-row barley
… Read More
malt, noble SAAZ hops,soft water from private wells and Bernard's signature yeast strain
---
Veltins Pilsener 4.8%
Pilsner - German
Brauerei VELTINS
---
Dark Lager (Černý ležák) 5.0%
Lager - Dark
Bernard Family Brewery
This unpasteurised dark lager is all about speciality malts. The combination of caramel, Bavarian,Pilsner, and colour malts results in its roasted character,which is an amazing alternative to the
… Read More
sharp grassiness of good Bohemian pilsners. After the first sip,you will be pleased by coffee, caramel and nutty flavors balanced with the bitterness of noble Saaz hops. The unique experience of this traditional lager is under scored by the EU protected geographical indication"Czech Beer"and several Czech and international degustation awards. Dip your nose into its brown head and enjoy the taste of this deep dark lager.
---
Loop: Raspberry & Sweet Cicely 4.5%
Sour - Other
Yonder Brewing & Blending
Barrel aged solera style saison. This version balances tart, aromatic raspberry with the sweet anise flavours of foraged sweet cicerly
---
Weihenstephaner Hefeweissbier 5.4%
Hefeweizen
Weihenstephan
Our golden-yellow wheat beer, with its fine-pored white foam, smells of cloves and impresses consumers with its refreshing banana flavour. It is full bodied and with a smooth yeast taste. To be enjoyed at any time (always a pleasure / enjoyment), goes excellently with fish and seafood, with spicy cheese
… Read More
and especially with the traditional Bavarian veal sausage. Brewed according to our centuries-old brewing tradition on the Weihenstephan hill.
---
βeta 5.0%
Pale Ale - American
Moor Beer Company
Hoppy Pale Ale with Citra, Mosaic & Enigma Part 2 of 2
---
Stowford Press Medium Dry Cider 4.5%
Cider - Dry
Westons Cider
Stowford Press is a lightly sparkling gright golden medium dry cider, slowly matured for a little extra character.
---
Mö Raspberry Beer 4.0%
Fruit Beer
Möbru
The Raspberry juice compliments the zestiness of the Wheat Beer – balanced by the special spice mix and restrained sweetness. Pilsner Barley Malt, Malted Wheat and a blend of Saaz and Styrian Goldings provides a fresh, fruity, mouth-watering drinking experience you will not forget.
---
Virtuous 4.5%
Gluten-Free
Kirkstall Brewery
Our gluten-free, vegan friendly session IPA has a clean citrus aroma that gives way to a fruity hop flavour. Flavours of tropical and citrus fruits, with hints of pine and blueberry are perfectly balanced by its complex malt base, giving it a flavoursome yet refreshing profile.
---
Close
Bad Kitty 5.5%
Porter - English
Brass Castle Brewery
A 5.5% chewy chocolate-vanilla dream of a porter. Bad Kitty earned its name from the antics of the two original brewhouse cats, who delight in mischievously supervising proceedings.
---
Old Forge 3.8%
English Bitter
Half Moon Brewery
A very bright amber coloured ale with a soft spiced lemon and honeyed flavour.
---
Toha 3.6%
Pale Ale - New Zealand
Tapped Brew Co
An all New Zealand hopped session pale. Toha means Forge in Maori, the beer was forged in Sheffield and showcases some fantastic hops from New Zealand - Rakau, Kahotu and Nelson Sauvin.
---
Mary Jane 3.5%
Pale Ale - English
Ilkley Brewery Co.
Multi-award-winning pale ale packed with American hops. Intensely refreshing and satisfying, with surprising balance and body for such a low abv. Mary Jane was named from the character in the Yorkshire folk song On Ilkla Moor Baht'at and is our best-selling beer by a country mile. Hast tha' been a'cooartin Mary Jane? Hops: Amarillo & Cascade
---
Fortitude 4.0%
English Bitter
Bristol Beer Factory
The 4.0% amber bitter is a major part of the UK's brewing heritage. While the style has largely been eschewed by craft-era breweries, there is still huge desire for great beers of this ilk (balanced beers with satisfying bitterness) but the market is dominated by large national and regional brewery
… Read More
brands. With this beer we are saying, why can't a small, independent brewery with a great reputation for interesting cask, brew a sensational, no-frills 4.0% bitter. This is a beer-coloured session bitter for those who want to enjoy a perfectly balanced, locally and lovingly made English bitter. We embrace all beer styles and wanted to acknowledge that the English bitter is a major part of both the brewing scene's present and future. We hope you enjoy!
---
Dissolution IPA 5.0%
IPA - English
Kirkstall Brewery
Brewed in memory of the dissolution of Kirkstall Abbey by Henry Vlll, in 1539 AD, and the disbanding of the Abbey's Cistercian order. This is a classic India Pale Ale, with a resolute hoppy kick and lasting citrus finish.
---
Thistly Cross Cider Cloudy 5.5%
Cider - Traditional
Thistly Cross Cider
Cider is naturally Cloudy, so let nature take its course. This crisp and beautifully balanced, medium dry cloudy cider is packed full of unfiltered goodness. Enjoy our fresh and fruity Thistly take on a classic!
---
Close
Bottle & Can Menu
Updated Oct 18 2020, 3:04 PM
Pizza
Our award winning pizza kitchen boasts a menu of Italian classics and our own Tapped twist on the authentic Italian stone baked style.

Tap again to access this feed

Tap again to access this feed
Contact Us
51 Boar Lane
Leeds
LS1 5EL
0113 2441953
enquiries@tappedleeds.co.uk
Opening Times
| | |
| --- | --- |
| Monday |  12pm-10pm |
| Tuesday |  12pm-10pm |
| Wednesday |  12pm-10pm |
| Thursday |  12pm-10pm |
| Friday |  11am-10pm |
| Saturday |  11am-10pm |
| Sunday |  12pm-10pm |
Food Served
| | |
| --- | --- |
| Monday | 12pm-9pm |
| Tuesday | 12pm-9pm |
| Wednesday | 12pm-9pm |
| Thursday | 12pm-9pm |
| Friday | 12pm-9pm |
| Saturday | 12pm-9pm |
| Sunday | 12pm-9pm |