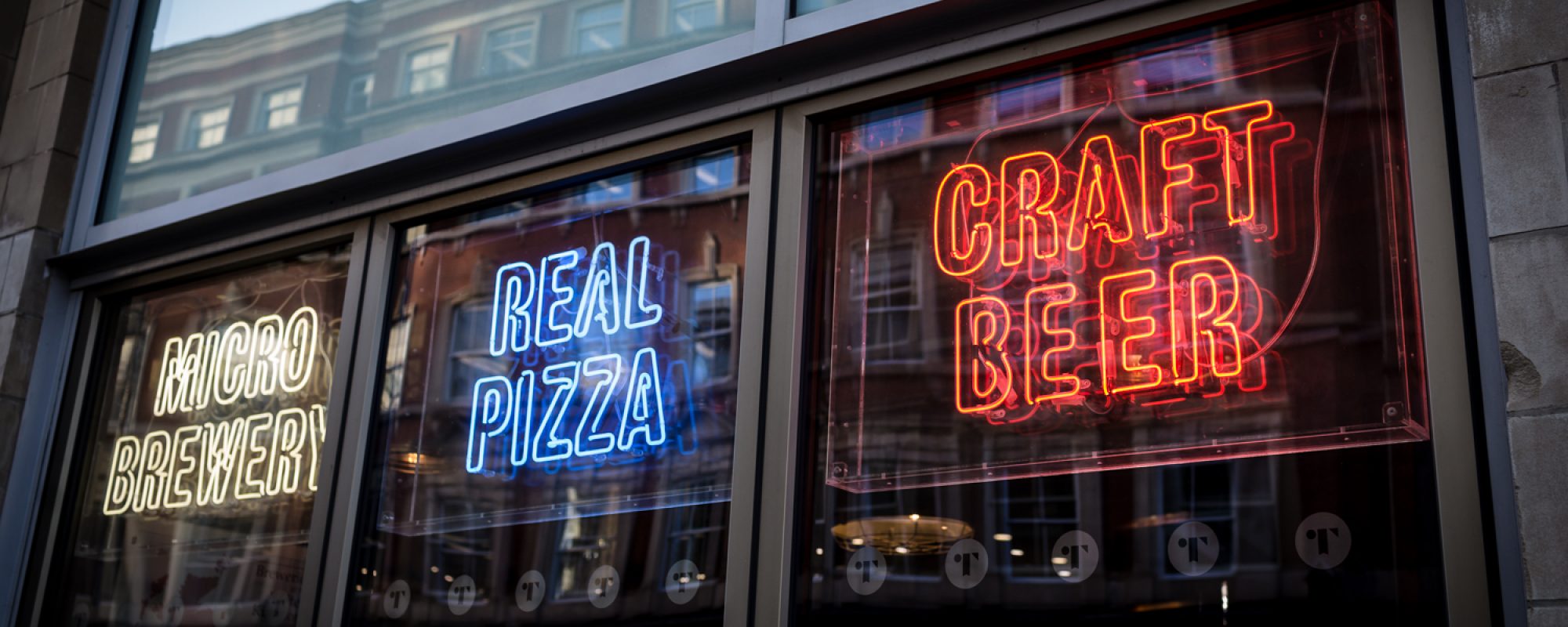 Welcome To Tapped Leeds
Tapped Leeds is located on Boar Lane in the heart of Leeds City centre. Opening in December 2013, this American style brew pub offers a wide range of products including 13 cask lines, 14 keg lines, bottles and cans as well as fresh beer brewed on site in our custom built Czech decoction brew kit. However, Tapped is not just for beer lovers and offers a large selection of high end spirits, wines and coffee to satisfy every patrons needs.
Over the years Tapped has become an integral part of the Leeds beer scene. Whether that's launching new beers, hosting Tap Takeovers in association with local and international breweries or helping promote Leeds International Beer Festival. We are always striving to bring our customers new and exciting products from all over the world.
In 2017 Tapped was awarded the SIBA Best UK Independent Craft Beer Bar – an honour we are extremely proud of and continue to offer the same level of service and excellence that allowed us to win the award.
Draught Menu
Updated Aug 10 2022, 4:32 PM
Veltins 4.8%
Pilsner - German
Brauerei
One of the finest examples of German Pilsner. Veltins Pilsener (4.8% ABV) is brewed using natural spring water from its own mountain. It has a delicate dry and clean palate, fine carbonated body, slight bitterness and a light citrus finish. Brewed in Sauerland, near Dortmund, to the German Purity Law
… Read More
1516. Voted 'World's Best Pilsner' in the 2007 World Beer Awards.
---
Virtuous 4.5%
IPA - Session
Kirkstall Brewery
Our gluten-free, vegan friendly session IPA has a clean citrus aroma that gives way to a fruity hop flavour. Flavours of tropical and citrus fruits, with hints of pine and blueberry are perfectly balanced by its complex malt base, giving it a flavoursome yet refreshing profile.
---
English Berry 4.0%
Cider - Other Fruit
Westons
A sparkling, clear, berry-coloured cider made from a blend of bittersweet, sharp and sweet apples, matured in Westons traditional oak vats before being blended with berry fruits.
---
Weihenstephaner Hefeweissbier 5.4%
Wheat Beer - Hefeweizen
Bayerische Staatsbrauerei Weihenstephan
Our golden-yellow wheat beer, with its fine-pored white foam, smells of cloves and impresses consumers with its refreshing banana flavour. It is full bodied and with a smooth yeast taste. To be enjoyed at any time (always a pleasure / enjoyment), goes excellently with fish and seafood, with spicy cheese
… Read More
and especially with the traditional Bavarian veal sausage. Brewed according to our centuries-old brewing tradition on the Weihenstephan hill.
---
House Party 4.0%
IPA - Session
LERVIG
In Norway, the long winters and short summers make us daydream of being in an island paradise. But we usually just end up at a friend's house party all night long. And what we drink is House Party - a super-clean malt profile allows the hops to give their juicy/tropical
… Read More
fruit flavours an unobstructed pathway to your palate. It comes in a can, and it's completely crushable.
---
Broken Dream 6.5%
Stout - Oatmeal
Siren Craft Brew
An indulgence of chocolate and speciality malts, Broken Dream is smooth, unctuous and moreish. It's brewed with milk sugar for balance and mouthfeel, along with carefully selected espresso from London's Climpson & Sons. Awarded CAMRA Supreme Champion Beer of Britain 2018.
---
Aspall 4.5%
Cider - Dry
Cyder
Aspall Cyder is made in the Aspall house style by blending culinary and bittersweet apple varieties such as cox and russet to deliver the refreshing, crisp taste of just-bitten apples. A new mid-strength cider for all occasions. Delivering the refreshing, crisp taste of just-bitten apples with a light to medium body.
---
Mystic Kriek 3.5%
Fruit Beer
Brouwerij
Seize the day with a special fruit beer - Mystic Cherry. It smells fresh and tasty and has the full flavour of summer cherries combined with wheat beer. Mystic lets you enjoy the taste of cherries all year round. Contains 25% cherry juice. Does not contain preservatives. Appearance Clear red in colour with
… Read More
a pink head. Flavour Powerful cherry taste. A tart fruit flavour at the onset gently flowing into a subtle and sweet aftertaste that does not cloy.
---
Rolling Papers 5.5%
Pale Ale - New England / Hazy
Bullhouse Brew Co
We put our blood, seat and tears into this Hazy boi, Multiple dry hop additions combine with the fruity esters of our house blend to give you something hazy and immensely crushable. Sláinte
---
Salty Kiss 4.1%
Sour - Fruited Gose
Magic Rock Brewing
Originally a collaboration brew with Kissmeyer Beer. A traditional German style Gose, flavoured with Gooseberry, Sea Buckthorn and Sea Salt. Tart, lightly sour, fruity and refreshing with a defined saltiness an excellent accompaniment to food. 2014 World Beer Cup, Gold Medal - Fruit Wheat Beer
---
Light Bulb 4.5%
Pale Ale - XPA (Extra Pale)
Verdant Brewing Co
As pale as a 100W light bulb but as juicy as an IPA. Session-able, quenching and totally addictive. Biscuity malt base with a hint of sweetness all drenched in fruity/dank hops.
---
IPA Citra Columbus Mosaic 6.5%
IPA - American
Partizan Brewing
---
Mittel Pils 4.4%
Pilsner - Other
Tapped Leeds
Award winning lager, Hopped with Hallertauer Mittelfrüher, A delicate aroma hop used mainly over the years in Lager type beers. This light pale Pilsner has a wonderful balance, with gentle hints of sweetness and lemon, all topped off with a naturally carbonated fresh taste
---
Close
Plum Porter 4.9%
Porter - English
Titanic Brewery
This beer is dark strong and well rounded; the richness of such a rotund beer is brought to an even keel by the late addition of Goldings hops and natural plum flavouring. Take the opportunity and go for the low hanging fruit, this sumptuous beer really is a plum!
---
Black Band Porter 5.5%
Porter - English
Kirkstall Brewery
A full bodied yet beautifully smooth dark porter. Perfectly balanced.
---
Crazy Like A Fox 4.5%
Bitter - Session / Ordinary
Totally Brewed
A decent English bitter. No more, no less. Should be easy drinking and not too sweet.
---
Hurricane Jack 4.4%
Blonde Ale
Fyne Ales
A tribute to the finest fictional sailor to ever sail from Glasgow to Loch Fyne, Hurricane Jack is a well-balanced blonde ale offering rounded fruit flavours on top of a full-bodied, pale malt base.
---
Heart & Soul 4.4%
IPA - Session
Vocation Brewery
THIS IS OUR BREWERY'S HEART & SOUL. Created from the heart and brewed with a double dose of devotion, this full-bodied fruity beer has all the hoppy goodness of an IPA , but with a seriously sessionable strength Expect a fruit salad flavour with bold notes of passionfruit, grapefruit, gooseberry, pineapple and mango. FRUITY TROPICAL HOPPY
---
Aurora 5.6%
Pale Ale - American
Burning Sky Brewery
A satisfying blend of malts to provide a juicy backbone and a pale amber colour. An expansive blend of US hops give a resinous mouthfeel, big citrus and tropical fruit flavours, which are prominent, yet well balanced.
---
Scoundrel 7.4%
Stout - Pastry
Rooster's Brewing Co
A rich decadent stout with a touch of sweetness and a luxurious mouthfeel. Brewed with the addition of almonds, glazed cherries, raisins, sultanas, lemon zest, orange zest, nutmeg, cinnamon and lactose.
---
Hope Valley 4.8%
Pale Ale - American
Tapped Brew Co
Hope Valley is our US Pale hopped with Centennial, Chinook and Columbus. A straw coloured medium bodied pale ale with notes of lemon, grapefruit and a touch of pepperiness from the combination of the hops used. Named after the Hope Valley in the Peak District.
---
Mango Cider 4.0%
Cider - Other Fruit
Lilley's Cider
An aromatic sweet cider expertly blended with exotic mango to create a mouth watering tropical flavour.
---
Elderflower 4.0%
Cider - Traditional / Apfelwein
Lilley's Cider
Crisp Somerset cider infused with heavenly elderflower which creates this refreshing and luxurious clean delicate cider. Floral hints above the apple notes give a unique taste.
---
Close
Pizza
Our award winning pizza kitchen boasts a menu of Italian classics and our own Tapped twist on the authentic Italian stone baked style.

Tap again to access this feed

Tap again to access this feed
Contact Us
51 Boar Lane
Leeds
LS1 5EL
0113 2441953
am@tappedleeds.co.uk
Opening Times
| | |
| --- | --- |
| Monday |  12pm-11pm |
| Tuesday |  12pm-11pm |
| Wednesday |  12pm-11pm |
| Thursday |  12pm-11pm |
| Friday |  11am-12am |
| Saturday |  11am-12am |
| Sunday |  12pm-11pm |
Food Served
| | |
| --- | --- |
| Monday | 12pm-9pm |
| Tuesday | 12pm-9pm |
| Wednesday | 12pm-9pm |
| Thursday | 12pm-9pm |
| Friday | 12pm-10pm |
| Saturday | 12pm-10pm |
| Sunday | 12pm-9pm |