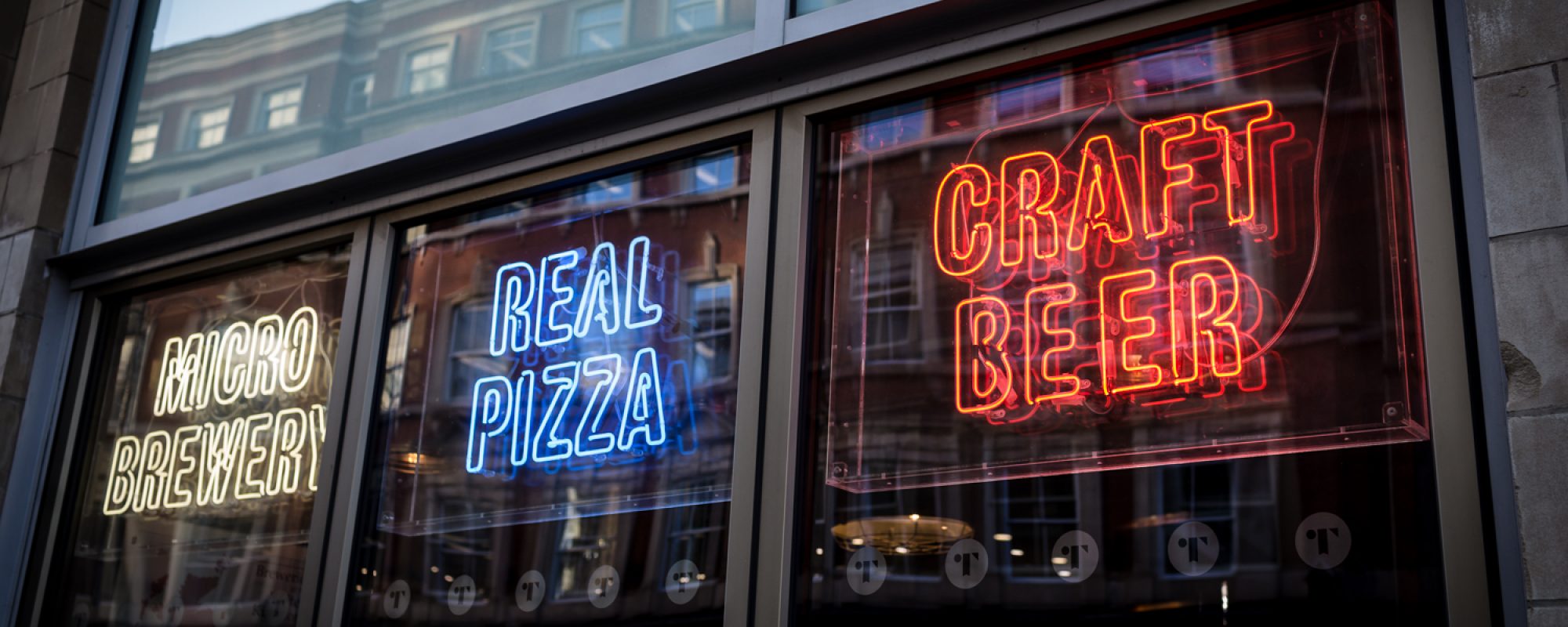 Welcome To Tapped Leeds
Tapped Leeds is located on Boar Lane in the heart of Leeds City centre. Opening in December 2013, this American style brew pub offers a wide range of products including 13 cask lines, 14 keg lines, bottles and cans as well as fresh beer brewed on site in our custom built Czech decoction brew kit. However, Tapped is not just for beer lovers and offers a large selection of high end spirits, wines and coffee to satisfy every patrons needs.
Over the years Tapped has become an integral part of the Leeds beer scene. Whether that's launching new beers, hosting Tap Takeovers in association with local and international breweries or helping promote Leeds International Beer Festival. We are always striving to bring our customers new and exciting products from all over the world.
In 2017 Tapped was awarded the SIBA Best UK Independent Craft Beer Bar – an honour we are extremely proud of and continue to offer the same level of service and excellence that allowed us to win the award.
Draught Menu
Updated Jun 24 2021, 8:27 AM
Veltins Pilsener 4.8%
Pilsner - German
Brauerei VELTINS
One of the finest examples of German Pilsner. Veltins Pilsener (4.8% ABV) is brewed using natural spring water from its own mountain. It has a delicate dry and clean palate, fine carbonated body, slight bitterness and a light citrus finish. Brewed in Sauerland, near Dortmund, to the German Purity Law
… Read More
1516. Voted 'World's Best Pilsner' in the 2007 World Beer Awards.
---
Pivo Lager 4.0%
Lager - Euro Pale
Harbour Brewing Co
Brewed exclusively for pivovar lager is brewed with Lager malts and the noble Saaz hop. Herbal, lemon and fresh grain aromas which is light and crisp with an elegantly brisk and dry finish is as close to a traditional Helles as possible.
---
Mortimers Orchard English Berry 4.0%
Cider - Other Fruit
Westons Cider
A sparkling, clear, berry-coloured cider made from a blend of bittersweet, sharp and sweet apples, matured in Westons traditional oak vats before being blended with berry fruits.
---
Weihenstephaner Hefeweissbier 5.4%
Hefeweizen
Bayerische Staatsbrauerei Weihenstephan
Our golden-yellow wheat beer, with its fine-pored white foam, smells of cloves and impresses consumers with its refreshing banana flavour. It is full bodied and with a smooth yeast taste. To be enjoyed at any time (always a pleasure / enjoyment), goes excellently with fish and seafood, with spicy cheese
… Read More
and especially with the traditional Bavarian veal sausage. Brewed according to our centuries-old brewing tradition on the Weihenstephan hill.
---
Tapped Brew Co Pale Ale 4.0%
Pale Ale - English
Tapped Brew Co
This beer is made using Citra, Centennial, Magnum and Cascade Hops which adds a lightly resinous character, the hops present a fantastic, punchy, lemon flavour with grassy hints. The kegs only leave the brewery when they have been perfectly conditioned and we really believe this to be an outstanding pub beer to be enjoyed again and again.
---
High Wire Grapefruit 5.5%
Pale Ale - American
Magic Rock Brewing
High Wire Grapefruit is a fruit-infused version of our best-selling West Coast pale ale. We accentuated the original beer's smoothly composed malt body and lip-smacking citrus character with the addition of 100% natural pink grapefruit flavour. Juicy, tart and deliciously refreshing, it's High Wire the Same But Different!
---
Stowford Press Medium Dry Cider 4.5%
Cider - Dry
Westons Cider
Stowford Press is a lightly sparkling gright golden medium dry cider, slowly matured for a little extra character.
---
Mystic Kriek 3.5%
Fruit Beer
Brouwerij Haacht Brasserie
Seize the day with a special fruit beer - Mystic Cherry. It smells fresh and tasty and has the full flavour of summer cherries combined with wheat beer. Mystic lets you enjoy the taste of cherries all year round. Contains 25% cherry juice. Does not contain preservatives. Appearance Clear red in colour with
… Read More
a pink head. Flavour Powerful cherry taste. A tart fruit flavour at the onset gently flowing into a subtle and sweet aftertaste that does not cloy.
---
Millionaire 4.7%
Stout - Milk / Sweet
The Wild Beer Co
Salted Caramel + Chocolate + Milk Stout Sometimes a drink can make you feel so decadent it's like you're a millionaire; this beer wraps you in a velvety cocoon, dresses you in a smart suit and takes you out for a special night on the tiles. Sweet and salty collide in
… Read More
this rich, balanced and smooth dessert stout. Lactose, caramel and high quality Valrhona cocoa nibs provide a chocolate and caramel backbone alongside the roasty malts whilst the Cornish Sea Salts gives a savoury salty kick, raising this beautiful beer above the norm.
---
Salty Kiss 4.1%
Sour - Fruited Gose
Magic Rock Brewing
Originally a collaboration brew with Kissmeyer Beer. A traditional German style Gose, flavoured with Gooseberry, Sea Buckthorn and Sea Salt. Tart, lightly sour, fruity and refreshing with a defined saltiness an excellent accompaniment to food. 2014 World Beer Cup, Gold Medal - Fruit Wheat Beer
---
Chief 4.7%
Pale Ale - American
Tapped Leeds
Our American Pale Ale hopped with Talus and Cascade Cryo.
---
Magik Pils 4.5%
Pilsner - German
Tapped Leeds
Our very own European style Pilsner. Brewed with finest lager and vienna malt. Hopped with Saphir and Spalter Select.
---
Mosaic Sessions 4.3%
IPA - English
Tapped Leeds
Session IPA brewed with Mosaic hops.
---
Close
London Thunder 4.2%
Porter - English
Rooster's Brewing Co
A classic approach to a style of beer first developed in Victorian London. Roasted malt and chocolate flavours are abound in London Thunder; a smooth, dark porter brewed using a blend of seven malts and English hops.
---
Best (Fuggles Hops) 4.1%
English Bitter
The Five Points Brewing Company
Five Points Best is a single-hopped Best Bitter, brewed with Fuggles hops from Hukins Hops. Refreshing and smooth, Best has notes of caramel and biscuit, and a lovely grassy, herbal freshness. Five Points Best celebrates both the history of British brewing and the modern craft beer movement. It showcases the Five
… Read More
Points take on beer: influenced by the past but brewed very much for the present. Because, we reckon, why should modern beer always mean new beer styles?
---
Inferno 4.0%
Golden Ale
Oakham Ales
*4% on cask, 4.4% in bottles* Flame gold in colour, this igniting ale flares complex fruits across your tongue leaving a dry fruity, thirst suppressing bitter finish. Hopped with: Sterling, Amarillo, Centennial, Cascade, Chinook
---
Kowabunga 4.6%
Pale Ale - American
Cromarty Brewing Co.
Totally bodacious, American hopped pale ale destined for your inner pizza loving ninja turtle. A luscious sweet malt base gives a good body to this beer whilst vigorous late hopping in the kettle from 5 varieties of hops provides a unmistakably juicy flavour and aroma. Kowabunga dudes!
---
Trinity 3.0%
Golden Ale
Redemption Brewing Co. & Taproom
An award winning light ale brewed with 3 malts and 3 hops. Generous late hopping provides Seville orange aromas and the initial malt sweetness is dominated by citrus flavours which explode on the palate. Brewed with plenty of malt to provide decent body so that it has some backbone for a low ABV beer. Pronounced bitterness throughout.
---
Heart & Soul 4.4%
IPA - Session / India Session Ale
Vocation Brewery
This is our brewery's Heart & Soul. Created to have all the hoppy goodness of an IPA, but brewed to a sessionable strength. Its intense fruit-salad character comes from generous additions of US West Coast hops. A full bodied and fruity beer, with notes of passion fruit, grapefruit, gooseberry, pineapple & mango.
---
Mango Cider 4.0%
Cider - Other Fruit
Lilley's Cider
An aromatic sweet cider expertly blended with exotic mango to create a mouth watering tropical flavour.
---
Close
Pizza
Our award winning pizza kitchen boasts a menu of Italian classics and our own Tapped twist on the authentic Italian stone baked style.

Tap again to access this feed

Tap again to access this feed
Contact Us
51 Boar Lane
Leeds
LS1 5EL
0113 2441953
am@tappedleeds.co.uk
Opening Times
| | |
| --- | --- |
| Monday |  12pm-11pm |
| Tuesday |  12pm-11pm |
| Wednesday |  12pm-11pm |
| Thursday |  12pm-11pm |
| Friday |  11am-12am |
| Saturday |  11am-12am |
| Sunday |  12pm-11pm |
Food Served
| | |
| --- | --- |
| Monday | 12pm-9pm |
| Tuesday | 12pm-9pm |
| Wednesday | 12pm-9pm |
| Thursday | 12pm-9pm |
| Friday | 12pm-10pm |
| Saturday | 12pm-10pm |
| Sunday | 12pm-9pm |